How to Create Posters and Flyers Free Online in DesignCap
DesignCap is an intuitive online application to create posters and flyers in just a matter of seconds. It's free to use, no need to download any additional programs. Whether you're in some business, organizing any event or function, publicize your business, or love to decorate your room wall, you are at the right place. All such your needs will be fulfilled with this website. To start you need to visit the website of DesignCap (https://www.designcap.com/).
Currently, among the new and noteworthy applications online, DesignCap is a graphics application for all those who want to create posters or artistic flyers in a few clicks and without the need for special graphics knowledge.
Once the application has been started, you will only have to choose one of the templates available. There are hundreds of templates available and are constantly updated by the development team. They are divided into different categories, such as promotion, music, education, sport, food, party, holiday, shop, travel, animal and more. One can click on Drop Down box available on the left side. As you'll click on "All" you'll see lots of categories from where you can select your interested template.
Other tools to act upon the template so selected are available on left sidebar which includes Template, Photo, Text, Clipart, and BKGround.
After choosing a preferred template, you are capable of changing any elements on it to your liking. The text is editable that you can click on a text object to modify the content. The formatting options are available in the editing menu. With a few mouse clicks, you can change the font, color, size, alignment, and effect to fit your needs.
Furthermore, DesignCap allows you to play with photos, offering more than ten effects and default filters. With an intuitive interface, you can insert your photos to the predefined templates and customize with your taste. It is also possible to rotate photos, and make small adjustments, such as adding the mirror effect.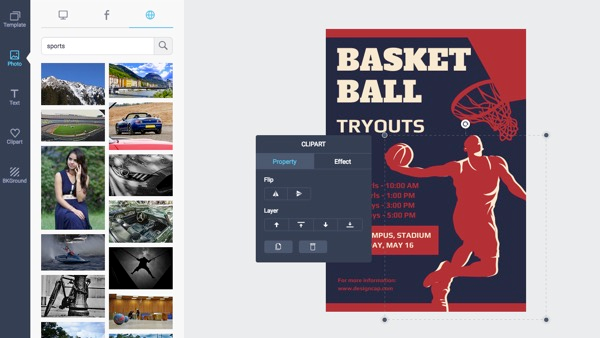 If you want, you can move any element by dragging with the mouse. The buttons at the corners of the rectangle serve to increase or decrease the size and to rotate the element.
After completing your poster, you can decide to export it in one of the compatible formats, such as JPG and PNG. Alternatively, your works can be printed or shared directly from the app via Twitter, Facebook, Pinterest, and Tumblr.
Conclusion
DesignCap is an excellent online service that is capable of producing fantastic posters and flyers. It provides a collection of professionally designed templates ready to be edited and used. The tool is free and can be accessed on the web, that is, you do not need to install any program. The feature is ideal for users with little knowledge in programs like Photoshop.
Through this online platform, it is possible to create posters and flyers for any concerts, shows, holidays, and events. There is a possibility to use it even without registering, and you will have unlimited free downloads. Check it out and see how you will produce a beautiful poster or flyer in your browser.