If you work in the legal, business or medical field, chances are that you are familiar with Bates numbering. It is a commonly used method of indexing and identifying documents for easy reference and retrieval.
Most common examples of usage include preparations for trials in the legal field or placing unique identifiers on business receipts in the corporate world. We can say that Bates numbering has succeeded Bates stamps used by American law firms. The reason is, of course, the rise of electronic numbering and use of digital documents instead of printed, paper documents. The paper format has been replaced mostly by PDF (Portable Document Format). This is positive and leads us a step closer to the paperless world.
If you also want to join the mainstream, but still haven't found the proper solution for adding Bates numbering to your PDFs, Unlock Windows is here to present you with a solution! If you're a regular blog reader, you may remember that some time ago we suggested that you check out Able2Extract Professional. It is a comprehensive PDF conversion and editing solution that has recently been further enriched with some advanced PDF editing features like PDF form filling and editing or inserting blank pages to existing PDFs for adding content. One of those newly added features is also the ability to insert bates numbering into PDFs.
How to Insert Bates Numbering with Able2Extract Professional
Adding Bates numbers with Able2Extract is super easy if you are acquainted with the software's interface. It's a no frills three-step process. However, if you have never used it, you may find this quick guide to indexing your PDFs with Bates numbering handy.
1) Open your PDF in the Able2Extract Professional 12. After opening your file, click on the Edit icon on the main toolbar to access PDF editing features.
2) Go to the Edit menu, hover over the option Bates Numbering and then select Add as is shown on the screen capture below:
3) Add Bates numbering dialog appears. It allows you to insert fully customized bates numbers. Set your starting number, your prefixes and suffixes (Counter, Date, Page), specify the page range, adjust the font, size, and color of the bates numbers. You can also specify the position of bates numbering on the page, along with horizontal and vertical spacing.
Once you're finished with your customizations, click the button Add to insert Bates numbers into your PDF. Able2Extract will automatically increment the value for each subsequent page.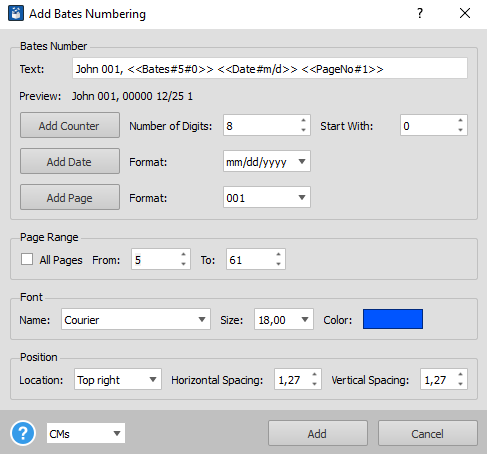 As you can obviously see, adding bates numbers to PDFs with Able2Extract Professional is a simple affair. You can try it for yourself by downloading the free 7-day trial here.