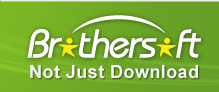 Brothersoft is organizing an activity where they are providing limited edition T-Shirts with Brothersoft.com Logo Sign. This activity starts July 22nd upto July 26th and you have to do simple things to win as:
Click the Join button and tweet the activity news.
Follow @Brothersoft on Twitter.
After this you will be considered as a participant for the giveaway and there will be 50% chances of winning as winners will be picked randomly.
Brothersoft at a glance:
Brothersoft.com is one of the Internet's top three most popular software download sites. It receives over 70,000,000 daily visitors and 30,000,000 daily downloads worldwide and maintains a powerful presence in non-English-speaking markets. Brothersoft.com also publishes insightful news articles and timely, professional reports on the software industry.
At Brothersoft.com, we are dedicated to providing our users with the greatest possible downloading experience. Our corporate relations network spans the world's leading multi-national companies and supports us in our mission to become the world's largest comprehensive provider of software downloads.
You can refer to thwir Official page and Twitter page for more info:
Best of luck for the giveaway.