Windows 8 theme for Windows 7, download now
As users worldwide got the public availability of Windows Developer Preview, users started exploring it step by step. Here one of the member of DeivantArt named fediafedia has created one excellent Windows 8 theme based on Windows Developer Preview for Windows 7. This gives the look of Windows 8 in Windows 7.
Windows 8 theme BETA update:
Removed stripes and fade stuff, looks much sharper and nicer now.
 Also removed glow from titlebar buttons and made some slight adjustments
 Startmenu is no longer rounded
 Glitch in the frames is almost invisible now (though still here)
Windows 8 theme Known bugs:
Edges are bugged a little, if anyone can help me fix this, I'd appreciate it.
The start button on the screenshot is custom metro one by fediafeida. Download the original start button from 8 here: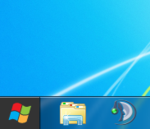 Download this Windows 8 theme for Windows 7.
Check Complete Windows 8 similar articles.