Google data is very important for us and from the day we started using services of Google. Google services are like Gmail contacts, blogger, Google Plus, Google Drive, YouTube etc. Day by day the size of the data is increasing and we are not backing it up nor archiving it. So here it is how to make archive of your Google information and download Google data. Google data includes content from following services of Google:
+1s
Blogger
Buzz
Contacts
Drive
Google+ Circles
Google+ Stream
Pages
Picasa Web Albums
Profile
Reader
YouTube
How to download your Google data in simple steps
1. Login to your Google account:
2. Click on Account from the drop down menu present on top-right corner: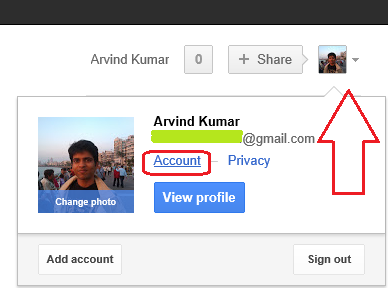 3. Now you can choose directly to Download your data or you can choose to Download data from a specific services as given below in image:
4. After clicking on Download your data you'll see the Google Takeout Page. You can also be prompted to provide password for security reasons too. Now here you can make archive of your data by clicking on Create Archive. In this case data from all services give here will be included in archive. If you want to choose specific services click on Choose Services from top menu. You can directly reach to this step by visiting Google Takeout.
5. When you click on Choose Services, you'll see options to choose specific services and then data archive of only those services will be made which were chosen.
5. After the archive is created it'll be available in Download section and you'll be notified via email if you choose Notify me by Email while creating archive.
Keep your Google Data safe as it'll include data from your all services which is personal and may be sensitive. You can also Download Facebook data and create your own personal website.